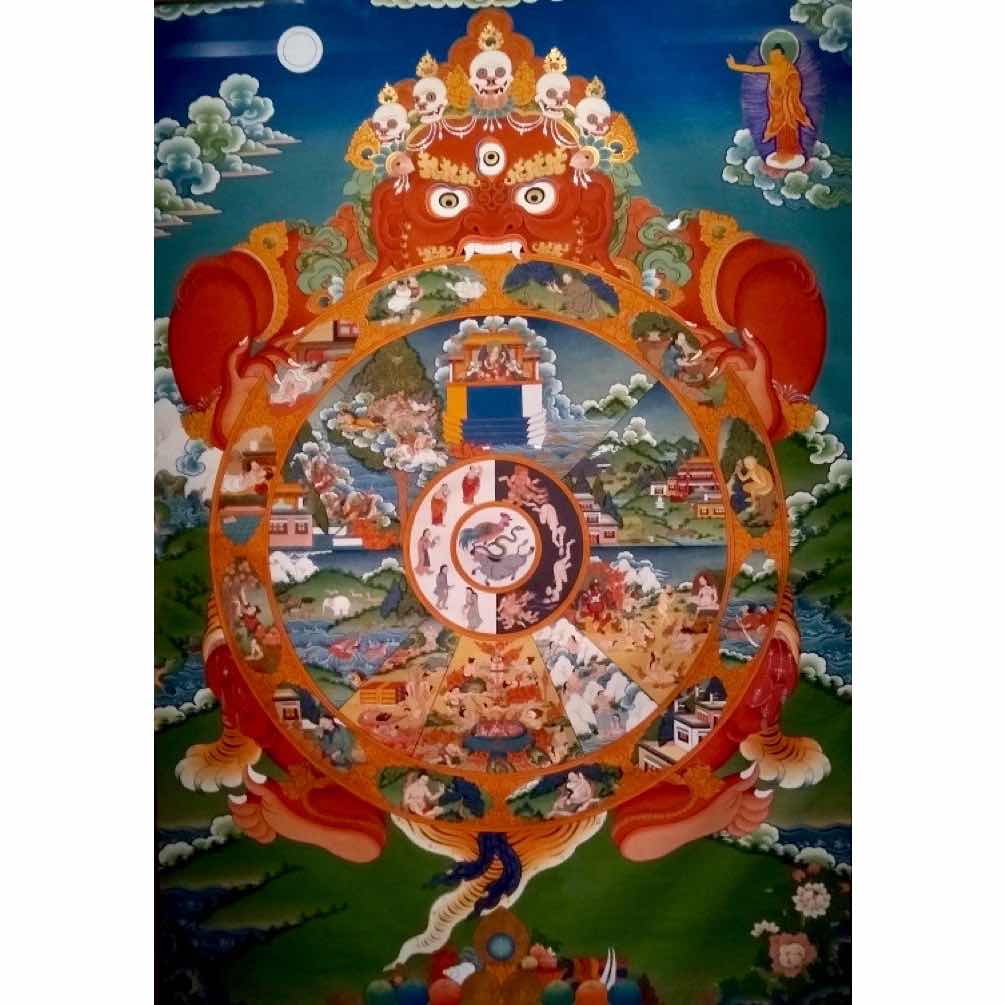 Online Foundations for Freedom -The Hinayana - Part 3
Second Noble Truth—The Origin of Suffering, Part II:
Wheel of Life, Karma, and the Twelve Nidānas
Gelong Loden Nyima and Acharya Judith Simmer-Brown
The foundational teachings of the Buddha indicate that the suffering we experience in our lives can come to cessation if we recognize, deeply and profoundly, how that suffering has arisen. This requires gentle bravery and deep contemplation, bypassing simplistic notions of how our suffering has arisen. The Buddha provided powerful models for this contemplation through the interrelated teachings of karma and kleśa, or destructive emotions, as exemplified in the Wheel of Life. Drawing from the contemporary insights of our Shambhala Buddhist lineage, we will tread the ancient path of the Buddha.
Class 1

Introduction to the Second Noble Truth
Contemplating Cause beyond Extremes
Mindfulness of Life: Touch and Go

Sunday, Jan 24

11:00 a.m. – 1:30 p.m.

Class 2

Kunjung of Kleśa and Karma

Basic Goodness and the Arising of Samsara

Sunday, Jan 31

11:00 a.m. – 1:00 p.m.

Class 3

Kleśa Continued, the Wheel of Life, and the Six Realms

Sunday, Feb 7

11:00 a.m. – 1:00 p.m.

Sunday, Feb 14

No Class - Shambhala Day

Class 4

Wheel of Life, continued

Twelve Nidānas, Cause and Result

Sunday, Feb 21

11:00 a.m. – 1:00 p.m.

Class 5

Twelve Nidānas, Present Lifetime and Future Lifetime

Sunday, Feb 28

11:00 a.m. – 1:00 p.m.

Class 6

The Long View: Karma, Lifetimes, and Buddhist Cosmology

Sunday, Mar 7

11:00 a.m. – 1:00 p.m.

Class 7

Live Discussion Groups

Sunday, Mar 14

11:00 a.m. – 1:00 p.m.
Generosity Policy
In order to make our programs accessible to everyone, we have a "pay what you can afford" policy. If the program price is an obstacle for you, please decide what works for you and offer whatever you can. At times, a minimum is set and if that is still an obstacle, please email us ([email protected]). We will never turn you away because of financial issues.

Our programs are listed with a base donation amount. These program donations help us pay rent and utilities, and allow us to offer honorariums to our teachers and pay travel expenses for them. Program donations are our only source of income outside of Center member donations.

For those who can offer more than the program price, we have a "patron price". Your generosity in offering the patron price helps cover the costs for others who are not able to pay the full price.