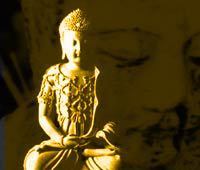 Sunday public meditation (shamatha)
All are welcome.
Open Meditation sessions last 2 hours and are divided into 2 parts. The first is sitting meditation that lasts 1 hour. During this time, there is a timekeeper who rings a gong to begin the session. During Open Meditation we sit silently for 15 to 20 minutes. This is followed by silent walking for 10 minutes. This is followed by another sitting session for 15 to 20 minutes.
Meditation cushions are provided although you may bring your own if you have a favorite. Chairs are available for those whose physical needs require one.
Instruction for new meditators provided by an authorized instructor before you join the main group. Please arrive by 9:50 am if you want instruction.
For the second hour, we either have a book discussion or a dharma presentation. During the book discussion, we read a chapter of a book and discuss, no previous reading required.
Friends, newcomers, and guests can arrive by 10:00 am to attend meditation, or come later at 11:00 and share the informal discussion and opportunity to ask questions in a comfortable environment. Those with a meditation practice will find this a great opportunity to add more practice time and to discuss the dharma with friends.
Your first time? Wear loose, comfortable clothing and please arrive on time. Also, check out our Frequently Asked Questions.

There is no set cost for this program although donations are cheerfully and gratefully accepted.