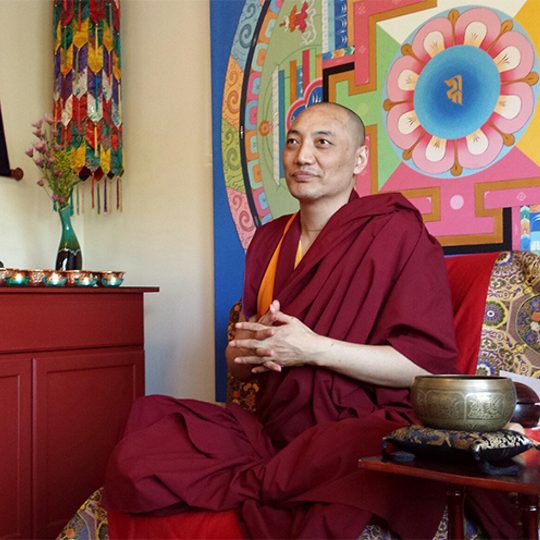 Exploring Foundational Buddhist Teachings (Hybrid)
with Khenpo Gawang
We're excited to be able to offer this course and invite you to register and join us. It is open to everyone and no prerequisites are required. Classes will be streamed live from 1:00 p.m. to 3:00 p.m. every second Saturday from October 14 thru June 8.
This program is being offered through Shambhala Online. We will stream it and participate as a group in the Center with our own discussions. The best of both worlds: an outstanding international teacher and connection with a global sangha, received in the context of our own home sangha! (If you would like to join us but need to do so from a distance, please register at the link below and then contact [email protected].)
In this 9-month course, Khenpo Gawang will guide participants through his book, Your Mind Is Your Teacher. This is strongly recommended for new students but will be offered in enough depth to be interesting and useful to those who have studied Buddhist teachings for many years.
Topics covered will include:
The Four Seals of the Dharma

The Eightfold Noble Path

The Five Skandhas

The Twelve Nidanas

Karma

Merit

Death and the Bardo

Absolute and Relative Reality
Full information is available on the registration link below.
This program is being offered via Shambhala Online through a generous revenue-sharing agreement. By using this link to register, half of the fee will be returned to the Cleveland Center.